Get your sticker mount now
Precision water-jet cut from ABS plastic, the BC HOV OK sticker plate will last the life of your vehicle. It's easy to clean and will not touch the paint.
$39 Package includes everything you need to install:
One MellenCar BC HOV OK Sticker Mount
New mounting hardware
Instructions
Installation is quick and easy. Simply remove your rear licence plate, add our sticker mount, and re-attach your licence plate using the new longer bolts (included).
Shipping is $5 and mailed through Canada Post. Your sticker holder will be delivered within a week with local shipping.

Notes
Tesla mounting screws included (2019+). 2018 hardware available upon request. 
We ship twice a week (Tuesdays, Fridays)
Use our referral code when you purchase or pick up your Tesla and get 1500km of supercharger credit: https://ts.la/andrew70415 
Image
You can mount it left or right of the license plate.
0
Number of people who want to put stickers on their new EV or Plug-in Hybrid
1
Number of people who are needed to install the BC HOV Sticker Holder
2
Number of the Phillips screwdriver needed to do the install
Learn More About the BC HOV Program
Due to the popular purchase incentive programs, there is a significant increase in the number of applications. Please allow 3 to 6 weeks for processing. Ministry staff are working diligently and appreciate your patience.
Electric vehicles (EVs) displaying an official decal are allowed in high occupancy vehicle (HOV) lanes in British Columbia regardless of the number of passengers in the car, unless a sign is posted indicating otherwise.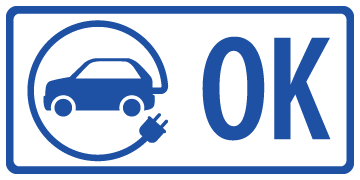 Eligible vehicles include:
Battery electric vehicle (BEV)
Fuel cell vehicle (FCV)
Plug in hybrid electric vehicle (PHEV)
Extended range electric vehicle (EREV)
To apply for an HOV lane/electric vehicle permit and decal, please complete the application form and return the signed application and a copy of the vehicle registration by facsimile, email or mail.
Your vehicle make, model, year and fuel type will be checked against the eligible vehicle list maintained by British Columbia's Clean Energy Vehicle Program to confirm eligibility.
While you are waiting you can install your bracket so you are ready for when your sticker arrives.