Get your sticker mount now
Precision water-jet cut from ABS plastic, the BC HOV OK sticker plate will last the life of your vehicle. It's easy to clean and will not touch the paint.
$39 Package includes everything you need to install:
One MellenCar BC HOV OK Sticker Mount
New mounting hardware
Instructions
Installation is quick and easy. Simply remove your rear licence plate, add our sticker mount, and re-attach your licence plate using the new longer bolts (included).
Shipping is $5 and mailed through Canada Post. Your sticker holder will be delivered within a week with local shipping.

Notes
Tesla mounting screws included (2019+). 2018 hardware available upon request. 
We ship twice a week (Tuesdays, Fridays)
Use our referral code when you purchase or pick up your Tesla and get 1500km of supercharger credit: https://ts.la/andrew70415 
Image
You can mount it left or right of the license plate.
Installation Video
Dennis from BC Tesla Guy with a quick installation video
0
Number of people who want to put stickers on their new EV or Plug-in Hybrid
1
Number of people who are needed to install the BC HOV Sticker Holder
2
Number of the Phillips screwdriver needed to do the install
Learn More About the BC HOV Program
Electric vehicles (EVs) displaying an official decal are allowed in provincial highway and municipal high occupancy vehicle lanes (HOV) in British Columbia regardless of the number of passengers in the car, unless a sign is posted indicating otherwise.
You can also apply for a replacement if your decal was lost or damaged.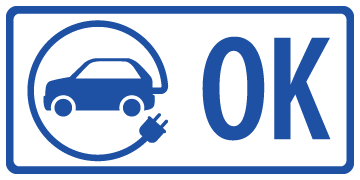 Your vehicle make, model, year and fuel type will be checked against the eligible vehicle list before a permit will be issued.
The following provincial highway HOV lanes are eligible for use by electric vehicles:
Lower Mainland
Highway 1 – westbound from east of 202 Street to Gilmore Way overpass
Highway 1 – eastbound from Gilmore Way overpass to 208 Street overpass
Highway 7 – westbound only east of Golden Ears Way to east of Old Dewdney Trunk Road
Highway 17A – northbound only Ladner Trunk Road to Highway 99
Highway 99 – northbound south of Highway 17 to north of Highway 17A
Highway 99 – southbound south of Westminster Highway to north of Steveston Highway
Kelowna
Highway 97 – northbound Pandosy Street to Highway 33
Highway 97 – southbound Highway 33 to Pandosy Street
While you are waiting you can order your bracket so you are ready for when your sticker arrives.